It's National Doughnut Day! That means we've gotta eat all the doughnuts, right? Well, before we can eat the doughnuts, we've gotta make the doughnuts! Duckie whipped some up the other day, and they were amazing! It was a great way to usher in the weekend, with some good coffee, snacks, and company! 
Coffee Coffee Doughnuts (courtesy of epicurious)
For the Doughnuts
• 2 cups all-purpose flour
• 1 teaspoon baking powder
• 1/2 teaspoon baking soda
• 1/2 teaspoon kosher salt
• 1/2 cup granulated sugar
• 2 tablespoons unsalted butter, room temperature
• 1 large egg, room temperature
• 1/3 cup buttermilk
• 2 tablespoons cold brew coffee concentrate
• 2 quarts canola oil (for frying)
For the Coffee Glaze
• 1 cup powdered sugar
• 2 tablespoons cold brew coffee concentrate
To make the doughnuts:
Combine flour, baking powder, baking soda, and salt in a large bowl.
Beat granulated sugar and butter in the bowl of a stand mixer fitted with the paddle attachment on medium speed until smooth, about 3 minutes.
Add egg and continue to beat, scraping down sides of bowl as needed, until incorporated. Reduce speed to low and gradually add buttermilk and coffee concentrate, beating just until combined. Gradually add dry ingredients and beat just until dough comes together.
Turn out dough onto a large piece of parchment paper and cover with a second sheet of parchment. Using a rolling pin, roll dough between parchment sheets to about 1/3" thick. Transfer dough in parchment to a rimmed baking sheet and freeze until firm, about 20 minutes.
Peel off top sheet of parchment. Working on bottom sheet, punch out as many rounds as you can with 3" cutter, then use 1" cutter to punch out center of each round. Gather doughnut holes and scraps and re-roll; repeat process 3–4 times until all dough has been used (you should have 12 doughnuts). Place doughnuts on a second parchment-lined baking sheet and freeze until slightly chilled, about 5 minutes.
Pour oil into a heavy-duty pot to a depth of 2" and fit pot with deep-fry thermometer. Heat oil to 375ºF. Working in batches, fry doughnuts until deep golden brown, about 1 minute per side. Transfer to a wire rack lined with paper towels and let cool 2–3 minutes.
To make the coffee glaze:
Whisk powdered sugar and coffee concentrate in a large bowl until smooth. Dip warm doughnuts in glaze. Place on a wire rack to let glaze set, about 3 minutes, then dip again.
She made the doughnuts! (Totally thinking of this guy the whole time Duckie was talking about this. lol)  These doughnuts pair especially well with Vietnamese Iced Coffee, a favorite of mine and Duckie's.
Let us know how your doughnuts turn out! We'll be back with more recipes soon, have a great weekend! 
xo
Coco
Macaron
Pronunciation: Ma-ka-RHON
Being in Paris this Spring inspired me to once again try my hand at Macarons. Though my macarons are but crumbs on the floor compared to Pierre Herme's,  I thought they were pretty good for being 'American made'!
Here's the recipe I used to make the macarons served at Coco and Duckie yesterday! My favorite thing about these little bites of decadence is how simple it is to create virtually any flavor. I've made Matcha Green Tea Macarons,  Salted Caramel Macarons, Fuji Apple Macarons, to name a few!  Get creative and come up with your own flavor combos and let me know how they turn out! :) Happy baking!!!
Macarons will be served again soon at Coco and Duckie so put your favorite flavors in the comment section below!
XOXO,
Duckie
Necessary Tools:
Pastry Bags
Pastry Tip
Spatula
Sifter
Kitchen Aid with a whisk attachment or some serious commitment to hand whisking.
Parchment Paper
Sheet Pans
Scale
Convection Oven (It's possible to use a regular oven...your baking temp will just need to be a bit lower)
Ingredients for Macarons
115g Almond Flour 230g Powdered Sugar 144g Egg Whites 72g Granulated Sugar 2g  Kosher Salt
Step #1
Weigh your almond flour and powdered sugar together into a bowl. Sift together. Whisk together.
Step #2
In your kitchen aid whisk on high the granulated sugar and egg whites to medium peaks. Very gently fold the meringue into the flour/powdered sugar, fold no more than 20 times or your macaron tops will get a greasy look after they have baked.
Step #3
Put your macaron batter into a pastry bag. Affix the parchment paper to the sheet pan by putting a little bit of batter at each corner. Then pipe out the macarons in 1 1/2" circles! Now the fun part...after you have piped out the cookies, while holding the pan with both hands bang the bottom of the pan onto the counter top to set the macarons. Let them sit uncovered on the counter for about 20 minutes so they can form a semi-hard skin.
Step #4
Bake at 300 degrees for 12 minutes, rotating the baking sheet half way though the bake time. let the macarons cool completely before you try taking them off the parchment paper.
Ingredients for Chocolate Filling:
(Remember, you can use any kind of filling!)
125g   50% Chocolate
125g Heavy Cream
Step #1 set the chocolate aside in a bowl with a spatula Step #2  heat the heavy cream until it starts to boil Step #3 pour the cream over the chocolate, let it sit for 1 minute the stir the chocolate until it becomes silky. Step #4 let sit until firm enough to pipe onto macarons (I usually make the filling the night before)
An Iced Coffee That Outsmarts The Summer Heat
By 
Erin Phraner
, Photographed by 
Alice Gao
It's iced-coffee season, and we couldn't be more thrilled! You see, mastering your morning fix at home is easy, especially with our homemade iced-coffee hacks. We've been using these tricks to save us time, money, and the stress of long (steamy) café lines…and we're ready to let in you on our secrets. So, get ready to improve your iced-coffee routine — we're here to help!
The Perfect Ratio
Every coffee drinker has his or her own ideal ratio of coffee-to-beans-to-time. This method is our favorite. Remember: Some say cold-brewed coffee is more caffeinated than regular coffee, so use this as a concentrate and mix it with a little cold water before using.
Best Cold-Brewed Iced Coffee
Makes:
 about 2 cups concentrate ½ cup whole coffee beans 2 cups room temperature water 1. Grind the coffee beans in a grinder for about 30 seconds. Transfer to a French press. Pour the water over the grounds, cover with the French press top, and set aside at room temperature overnight. 2. In the morning, push down the filter to stop the brewing. Strain into a container and keep in the refrigerator for up to one week. Serve over ice mixed with water and/or milk.
Simple Syrup Saver
Simple syrup is our preferred sweetener for iced coffee, far superior to having undissolved sugar bits in your drink! We keep ours in a DIY dispenser for easy access and to prevent spills — because, let's face it, we're not the most nimble first thing in the morning.
Makes:
 1 container, plus simple syrup 1 empty pump-top soap bottle 1 bottle Goo Gone Granulated sugar 1. Remove the labels from one empty pump-top soap bottle in hot soap water and wipe off any glue residue with Goo Gone or a similar product. Thoroughly wash out and dry the container. 2. Meanwhile, simmer equal parts sugar and water in a saucepan until the sugar dissolves. Remove from the heat and let cool completely. Pour into the prepared container and store in the refrigerator for up to two months.
Vanilla-Milk Ice Cubes
Turn vanilla-flavored milk into ice cubes and save yourself the trouble of dressing up your iced coffee in the morning — just add the flavored cubes and the milk/vanilla will incorporate into the coffee as they melt. Hey, vegans: Try the same thing with coconut milk!
Makes:
 about 2 dozen ice cubes 2 cups milk 1 vanilla bean, split 1. Put the milk in a medium bowl or pitcher. Scrape the vanilla bean seeds into the milk using the tip of a sharp knife; whisk until combined. 2. Divide the milk mixture among two ice cube trays. Freeze at least three hours or overnight.
Homemade Coffee Creamer
Hyper-cool café culture has tricked us into believing coffee creamer is for sinners. But, can we just admit that a little hit of hazelnut-flavored Coffee Mate tastes incredible now and then!? Here's an idea: Enjoy your creamer without the stigma by turning it into an edible DIY project that you can flavor however you'd like.
Makes:
 about 2 cups 2 cups fat-free or reduced-fat milk 1 (14-ounce) can sweetened condensed milk 1 to 2 teaspoons flavoring (ideas below) 1. Shake the milk and sweetened condensed milk in an airtight container for 30 seconds or until combined (alternatively, whizz 'em up for a few seconds in a blender). 2. Stir in one to two teaspoons flavorings and store in an airtight container in the refrigerator for up to one week. Shake well before using.
Flavorings:
- vanilla extract - almond extract - coconut extract - hazelnut extract - butterscotch extract - cocoa powder - espresso powder - maple syrup - caramel ice cream topping You get the idea….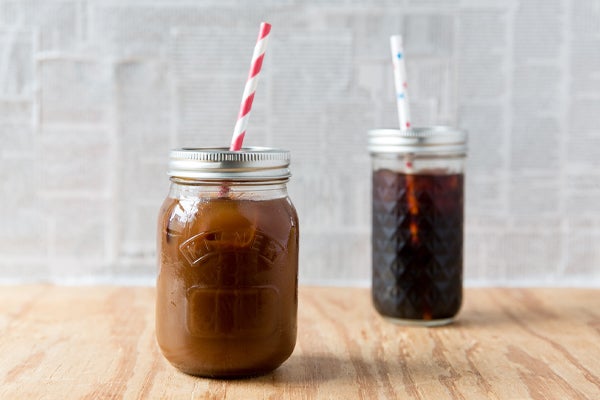 DIY Mason Jar To-Go Cups
 Don't waste your money buying a special iced-coffee container. Everyone seems to have at least one mason jar these days, and you can turn it into a to-go cup (perfect for iced coffee) in literally 30 seconds. All you need is a hole punch and a straw.
Makes:
 1 cup 1 mason jar or other jar with separate lid and ring 1 single hole punch 1 straw 1. Insert the mason jar lid (the flat disk-shaped piece) into the hole punch as far as you can. 2. Firmly squeeze the hole punch to puncture a hole in the lid; wiggle the lid to release it from the hole punch and discard the punched out circle. 3. Place the lid on top of the mason jar and screw on the ring to secure. Insert a straw into the hole — 
voilà
!
Happy Fall everyone!
The holidays are just around the corner and we are ever SO excited, considering it is the most wonderful time of the year! ;)  We have decked our halls and hung our mistletoe at the shop and we are ready to celebrate! This season inspires us, everything from falling leaves, spiced drinks, warm cocoa, turkey to roasting chestnuts!
To set the mood over at Coco and Duckie we are burning our new favorite seasonal candle, Twilight Vanilla!
Fragrance notes: delicate notes of dreamy vanilla and sweet coconut are accentuated with rich patchouli.
We are currently listening to a 'winter mix' (since it's not quite Christmas time yet).
Including Mumford and Sons, Ellie Goulding, Ingrid Michaelson, Death Cab, Bon Iver and Florence and the Machine to name a few!
Last night at Thursday Night Out in Bellville we were serving a mulled cocktail, that was quite festive if I do say so myself!
I unfortunately neglected to snap photos while I was making components for the cocktail we served last night, you will just have to try the recipe out your self and we would love to see your photos (you could add them to our Facebook wall)!
Coco's Champagne Cocktail
Yields 1 gallon
Tools:
1 large stock pot
1 fine mesh strainer
cheesecloth
1 ladle
Ingredients
1 large piece of ginger root
4 large oranges
2 Tablespoons of clove
2 Tablespoons of freshly grated nutmeg
1 Tablespoon of ginger powder
3 Tablespoons of cinnamon
1 Tablespoon dark molasses
 1 Gallon of cranberry juice (no sugar added)
1 Bottle of champagne
1) Take the rind off all of the oranges then cut the fruit in half, set in the pot.
2) Cut the ginger in small-ish chunks, set in the pot.
3) combine all spices and whisk to break up any chunks, add to the pot.
4) Add molasses to the pot.
5) Pour cranberry juice on top and bring to a boil. Once the mixture has boiled let cool  for 30 minutes and repeate the process three times. then let chill in the pot overnight in the refrigerator.
6) Once it has chilled for at least 12 hours, strain the mixture through a fine mesh strainer lined with cheese cloth so there will be a very small amount of sediment in the cocktail. Discard the ginger, oranges etc.
To serve, fill a champagne glass 1/4 of the way full with your mulled cider and top with equal parts champagne! Then eat, drink and be merry!
Till next time!
Cheers,
Duckie xoxo
We love shoes.....and strawberries! Summer is here and it has us wanting for fresh berries but mostly for some new summer shoes!
Ingredients
1 1/2 pounds (about 6 cups) fresh strawberries
1/4 cup plus 1/3 cup plus 1 tablespoon sugar
2 1/2 cups all-purpose flour (spooned and leveled), plus more for dusting
1/2 cup (1 stick) cold unsalted butter, cut into small pieces
2 1/2 teaspoons baking powder
1 teaspoon salt
1 cup milk
Whipped Cream
Directions
Preheat oven to 425 degrees. Make the sweetened strawberries: Hull and quarter strawberries; toss in a medium bowl with 1/4 cup sugar. Let stand until syrupy, tossing occasionally, at least 20 minutes (and up to 1 day, covered and refrigerated).
In a food processor, combine flour, butter, 1/3 cup sugar, baking powder, and salt; process until mixture resembles coarse meal. Add milk; pulse just until moistened, 4 or 5 times. Do not overprocess.
Turn out dough onto a lightly floured surface; with floured hands, gently pat dough into a 4-by-8-inch rectangle.
Dust a large knife with flour; cut dough into 8 squares. Transfer to a baking sheet; sprinkle with 1 tablespoon sugar. Bake until golden, 25 to 30 minutes; cool on baking sheet. To serve, split biscuits with a serrated knife; layer with berries and Whipped Cream.

Ingredients
8 ounces semisweet chocolate, finely chopped
1 pound large strawberries (about 20), washed and dried well
1/3 cup finely chopped pistachios (optional)
Directions
Place chocolate in a bowl set over (not in) a saucepan of simmering water. Stir occasionally, until melted, 3 to 5 minutes. Remove from heat.
Line a baking sheet with waxed paper. One at a time, dip each strawberry in chocolate, twirling to coat; then sprinkle chocolate-covered portion with pistachios, if using, and place on waxed paper.
Chill chocolate-dipped strawberries at least 15 minutes to set chocolate. (Strawberries should not be stored in refrigerator longer than 1 hour as condensation drops may collect on the chocolate.)
Sources
Photos via Tumblr
Recipes via Martha Stewart