Need a Little Caffeine?
An Iced Coffee That Outsmarts The Summer Heat
By 
Erin Phraner
, Photographed by 
Alice Gao
It's iced-coffee season, and we couldn't be more thrilled! You see, mastering your morning fix at home is easy, especially with our homemade iced-coffee hacks. We've been using these tricks to save us time, money, and the stress of long (steamy) café lines…and we're ready to let in you on our secrets. So, get ready to improve your iced-coffee routine — we're here to help!
The Perfect Ratio
Every coffee drinker has his or her own ideal ratio of coffee-to-beans-to-time. This method is our favorite. Remember: Some say cold-brewed coffee is more caffeinated than regular coffee, so use this as a concentrate and mix it with a little cold water before using.
Best Cold-Brewed Iced Coffee
Makes:
 about 2 cups concentrate ½ cup whole coffee beans 2 cups room temperature water 1. Grind the coffee beans in a grinder for about 30 seconds. Transfer to a French press. Pour the water over the grounds, cover with the French press top, and set aside at room temperature overnight. 2. In the morning, push down the filter to stop the brewing. Strain into a container and keep in the refrigerator for up to one week. Serve over ice mixed with water and/or milk.
Simple Syrup Saver
Simple syrup is our preferred sweetener for iced coffee, far superior to having undissolved sugar bits in your drink! We keep ours in a DIY dispenser for easy access and to prevent spills — because, let's face it, we're not the most nimble first thing in the morning.
Makes:
 1 container, plus simple syrup 1 empty pump-top soap bottle 1 bottle Goo Gone Granulated sugar 1. Remove the labels from one empty pump-top soap bottle in hot soap water and wipe off any glue residue with Goo Gone or a similar product. Thoroughly wash out and dry the container. 2. Meanwhile, simmer equal parts sugar and water in a saucepan until the sugar dissolves. Remove from the heat and let cool completely. Pour into the prepared container and store in the refrigerator for up to two months.
Vanilla-Milk Ice Cubes
Turn vanilla-flavored milk into ice cubes and save yourself the trouble of dressing up your iced coffee in the morning — just add the flavored cubes and the milk/vanilla will incorporate into the coffee as they melt. Hey, vegans: Try the same thing with coconut milk!
Makes:
 about 2 dozen ice cubes 2 cups milk 1 vanilla bean, split 1. Put the milk in a medium bowl or pitcher. Scrape the vanilla bean seeds into the milk using the tip of a sharp knife; whisk until combined. 2. Divide the milk mixture among two ice cube trays. Freeze at least three hours or overnight.
Homemade Coffee Creamer
Hyper-cool café culture has tricked us into believing coffee creamer is for sinners. But, can we just admit that a little hit of hazelnut-flavored Coffee Mate tastes incredible now and then!? Here's an idea: Enjoy your creamer without the stigma by turning it into an edible DIY project that you can flavor however you'd like.
Makes:
 about 2 cups 2 cups fat-free or reduced-fat milk 1 (14-ounce) can sweetened condensed milk 1 to 2 teaspoons flavoring (ideas below) 1. Shake the milk and sweetened condensed milk in an airtight container for 30 seconds or until combined (alternatively, whizz 'em up for a few seconds in a blender). 2. Stir in one to two teaspoons flavorings and store in an airtight container in the refrigerator for up to one week. Shake well before using.
Flavorings:
- vanilla extract - almond extract - coconut extract - hazelnut extract - butterscotch extract - cocoa powder - espresso powder - maple syrup - caramel ice cream topping You get the idea….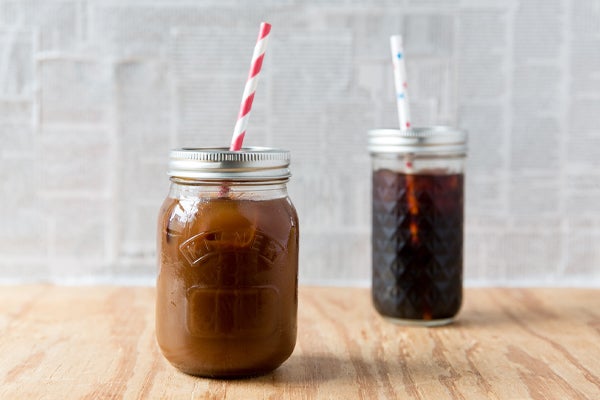 DIY Mason Jar To-Go Cups
 Don't waste your money buying a special iced-coffee container. Everyone seems to have at least one mason jar these days, and you can turn it into a to-go cup (perfect for iced coffee) in literally 30 seconds. All you need is a hole punch and a straw.
Makes:
 1 cup 1 mason jar or other jar with separate lid and ring 1 single hole punch 1 straw 1. Insert the mason jar lid (the flat disk-shaped piece) into the hole punch as far as you can. 2. Firmly squeeze the hole punch to puncture a hole in the lid; wiggle the lid to release it from the hole punch and discard the punched out circle. 3. Place the lid on top of the mason jar and screw on the ring to secure. Insert a straw into the hole — 
voilà
!